In today's modern, digital age, many default to online methods of online marketing for their IT support business.
The opportunity and ease of advertising and marketing your MSP online is a low barrier to entry for businesses of any maturity level.
However, I'm sure you'll agree with me when I state that there's an over-abundance of information online, and it's easy to get drowned out in the "digital noise".
I'm going to outline to you a marketing method that almost all experts will advise but are quite often ignored. Marketing gods like Dan Kennedy built their entire audience and business based on mailing newsletters.
In today's world, it's become more critical than ever – I'm going to discuss why this is and how you can leverage printed newsletters for your MSP to rocket boost your sales pipeline.
As a bonus, I'll be discussing the one unusual method that you should be incorporating into your printer newsletter to achieve an unfair advantage over your local competitors.
Why Newsletters Why Now?
We're big fans of email marketing but only when it makes sense. We've discussed the reasons why your MSP needs to grow an organic list of emails to market to. You should never buy a list.
This leaves many scratching their heads – if they can't spam a cold list with email, then how exactly are they to get the message out about their business and how they can help?
That's one reason why the printed MSP newsletter works so well – it does not matter if the contact has opted in or out – legally, you can mail them the newsletter, and your not breaking any spam or privacy laws. Business is business, and a printed newsletter is the number one way to introduce your technology business services to new prospects. That cold contact is not going to be annoyed by your mailing and can't mark it as junk and affect your domain reputation.
LinkedIn Marketing Failure
I recently reported on our LinkedIn automation failure – it's always been my go-to platform for getting new leads here at IT Rockstars; however, the growing number of marketing companies and sales agencies that abuse the platform has seen a sharp rise in spam and prospects that once would have accepted your LinkedIn connection request are now adding you to the ignore list.
Where there's a failure, there's a lesson, and when there's a lesson, things change – with that lesson, it's become evident that if you want to actively connect and grow your LinkedIn network, you're going to have to think a little smarter than just sending out a connection request.
This is where the printed newsletter gives you the perfect opportunity to open up a conversation on the platform with cold prospects that have just so happened to have received your newsletter in the mail.
Are You Listed In The
MSP Business Directory?
Why Newsletter Can Help Your Cold Calls
For the same reason as cold LinkedIn connections, your sales development representatives (SDRs) or indeed yourself have the perfect opening line when making cold calls to a chosen list of business contacts:
"Hello, Mr X. Did you happen to receive our newsletter in the mail?"
It's the perfect opener and, from a cold contacts perspective, has much more impact than a cold email or spammy LinkedIn message.
The MSP Newsletter Is A Must
Once you understand the power of this type of marketing, you soon will begin to understand that the newsletter is only a tiny piece of the overall marketing puzzle in your business – one that can't be left out.
I'd go far as to say you can get a lot more sales and marketing traction using a printed newsletter over any email marketing or LinkedIn tactics the latest gurus are preaching about.
Example MSP Business Newsletters
Our core membership service here at IT Rockstars is a monthly marketing pack. It is jammed full of MSP marketing material that you can utilise in your technology business.
One of the critical ingredients we include is a templated newsletter – To help you get started, I'm going to break down the structure of the newsletters we produce for our members and give you a hint at what you can achieve in your business if you have got access to the right marketing content.
Sample Newsletter (Members Only) Page 1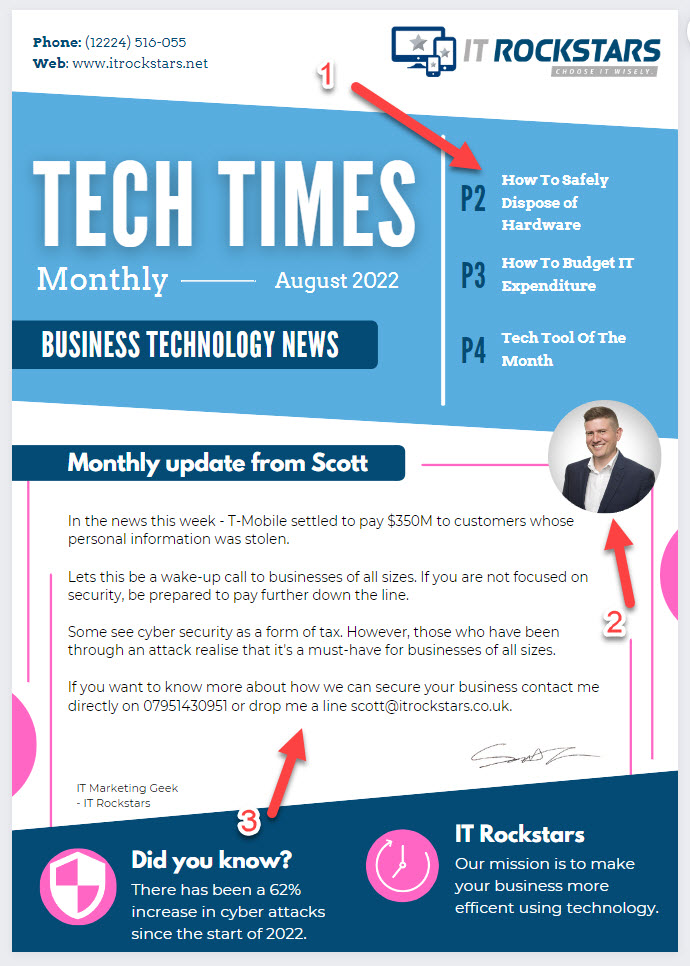 Section 1: Contents
We call this curiosity marketing – online this is called clickbait offline in newsletters it drives the reader to want to find out more about the topics detailed – we always try and keep this relevant for the small the medium size business owner that is the primary decision maker when it comes to IT contracts.
Section 2: Welcome Text
A brief overview of what's going on in the tech industry.
Section 3: Get Personal
Personalize the newsletter as much as possible – the whole point of the newsletter is to build up a relationship with the reader, so you need to have your photo and team members' photos included – avoid stock imagery at all costs.
Sample Newsletter (Members Only) Page 2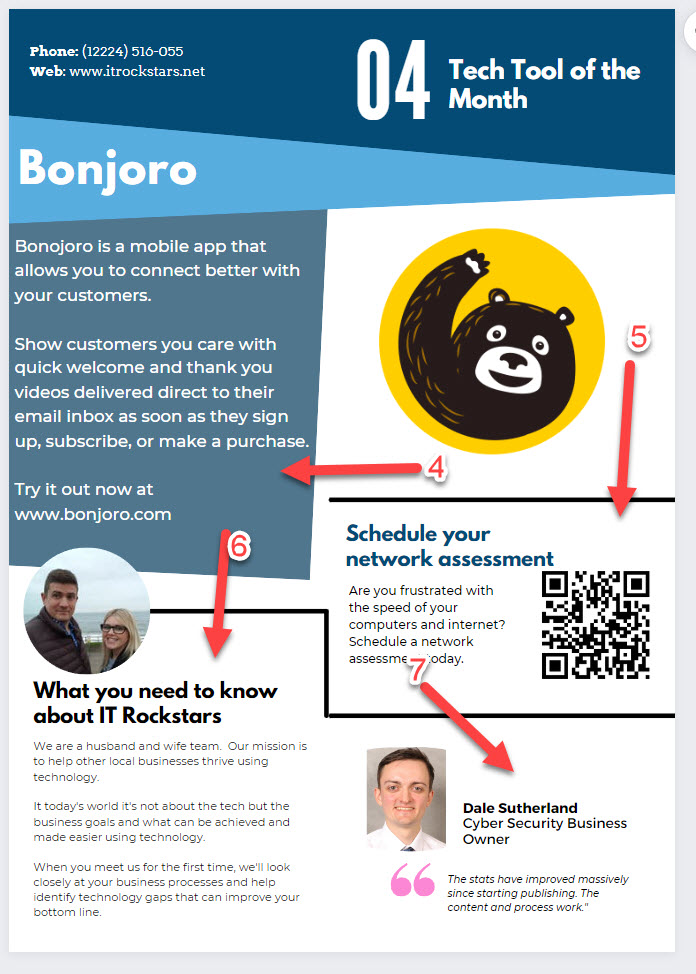 Section 4 Technology Tool of the month
This is where we feature tools or tips that can help your prospects grow or become more efficient in their business. The topic changes every month and includes both hardware and software.
Section 5 The CTA
The main call to action – and our "offer" in this example it's a free network assessment and includes a carefully crafted QR code that includes a tracking cookie leading back to our website.
Section 6 Team Building
Further personalisation includes the opportunity for you to include team members or company news.
Section 7 Testimonials
A rock-solid testimonial – social proof trumps almost all marketing. Ideally, the testimonial should include some mention of one of your services and how this has helped your client in their company.
Canva + Customization
As an MSP, you have many options open to you for newsletters. Many of the bigger tech communities and marketing companies offer these styles of newsletters. Where ours differs is in the content – it's focused on the CEO and small business owner's mind. (The decision-makers)
The newsletters are published in Canva, which is a web-based service you can freely sign up to. This template is made available to all our members and they have free creative control over the design, content and images. Within our membership, we even have Upwork specialists that can help you brand the newsletter to the style of your company.
Printed Newsletter Service
Once you've gone through all the steps of creating a newsletter, it's time to get the thing printed. A common question I'm asked on almost a weekly basis is where should you get the thing printed?
USA
I'd highly suggest speaking with Profit 911. These guys are based in Illinois and can fulfil both the print and mailing of newsletters (starting at 80 cents a piece) in small batches, which is perfect if you are targeting a hot list of leads you've manually created as opposed to buying in data and lists.
UK
I'm a big fan of the newspaper club– they don't offer a mailing service; however they can print your newsletter onto premium newspaper-style material – they've even got a sample pack you can ask for. Check them out.
The Local Agency
The other option open to you is a local print house or agency. I know a lot of this type of business is done online; however, if you can strike up a good relationship with a local printing company, they do have the additional benefit of acting as a referral source for you. Most if not all of these types of businesses have both an active local client list and an admin burden that usually needs some form of technical support.

Include A Website QR Code In Your Newsletter
The final piece of the MSP newsletter puzzle is the QR code. Since the pandemic, almost everyone knows how to use a QR code, and you can leverage them in your newsletter.
Website Services
The most obvious reason for including a QR code is so that you can link back to the IT services you offer. A complete list of the technology solutions is a good place to start with some form of scheduling tool where prospects can easily book a meeting with you.
Cookie Injection
The other reason for the QR code is so you can build out a retargeting audience across the display advertising networks. This includes LinkedIn, Google & Meta.
You have the opportunity to laser target any of these prospects that scan the QR code with follow-up marketing – it's one of the most powerful overlooked features of a printed newsletter and one we can help you deploy.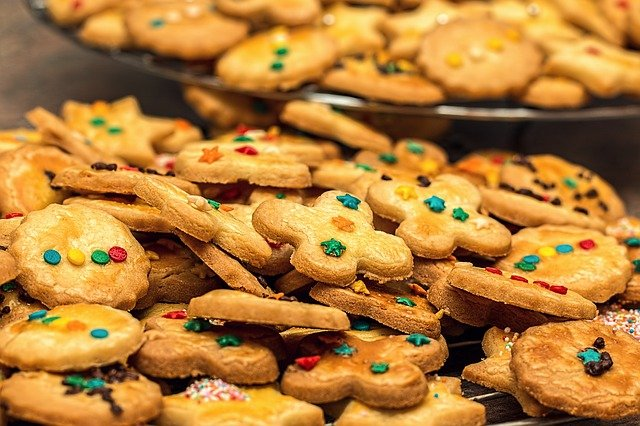 There are a number of QR code injection services – the one we've had the best results with is Pixel Me – which will allow you to inject your retargeting across multiple platforms and also personalise the URLs – I don't want to get to too much technical detail, but it's an effective method of paid advertising that does not compare with any other targeting options open to you.
Conclusion
Before you even think about deploying a printed newsletter in your IT business, I highly urge you to define a list of between 100-200 prospects that you would send this newsletter.
Most new members at IT Rockstars always answer the one question I have during our onboarding calls the same "do you have a list of prospects" – Answer: "yes, but it's not written down/it's out of date/no idea where to start"
We take our members through a series of thought questions like this and then show them exactly how they should be building out a high-quality list of prospects – your ideal clients.
This forms the basis of our printed newsletter mailing list and includes a series of steps to clean the data, confirm the correct address and qualify the contact.
The other two sources that should be included in your list are existing customers – there's nothing better than keeping in touch with them with a physical mail piece that they'll pay attention to.
It can act as both an account marketing tool and discussion point at QBRs "hey did you see our latest newsletter – it features X technology, the one we've mentioned to you before. Many of our other clients are already using this" – you get the general idea of where the conversation can be taken.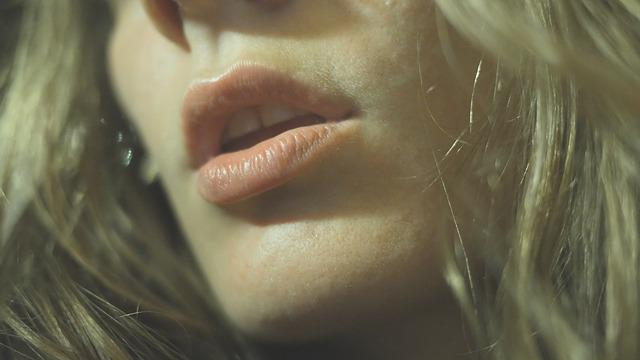 Finally, if you have a rewards/referral program, the newsletter sent to existing clients and those in your business network that are referral sources can be reminded about the referral program.
Now, if you've come this far – there's nothing stopping you. Get that newsletter printed and mailed today!
Scott Millar
Scott Millar has helped over 300 IT service businesses transform their marketing and position them as the local technology leaders in their area.
Are You Listed In The
MSP Business Directory?